FREEDOM SCHOOL


Exhibited:

▷ SPRING/BREAK Art Show // POWER IS ABUSE (Site specific installation) / New York City / March 6 - 12, 2018


A space transformed to give people free access to political education and a space for action through play.


'Freedom School' is both a resource center and a tangible lesson. It is a place of political action through play; meaning you can both get educational material and engage with local New York projects and also start your own 'Freedom School'. The idea of pricing it to zero, is meant to be a tangible lesson, precisely to encourage people to start their own project, anywhere they want, and have it be ephemeral or permanent, the idea is to tell people anybody can do it and doesn't belong to one person.

Play, because it is in an art context, where our reality and the reality of the 'Cathara Autonomous Territory' fuse together. It is a place, were citizens of this world get prepared to get their stateless genderless CAT passport at the checkpoint.

It serves as a narrative of our time, and suggests ways to: create, resist, inform and build community and solidarity networks.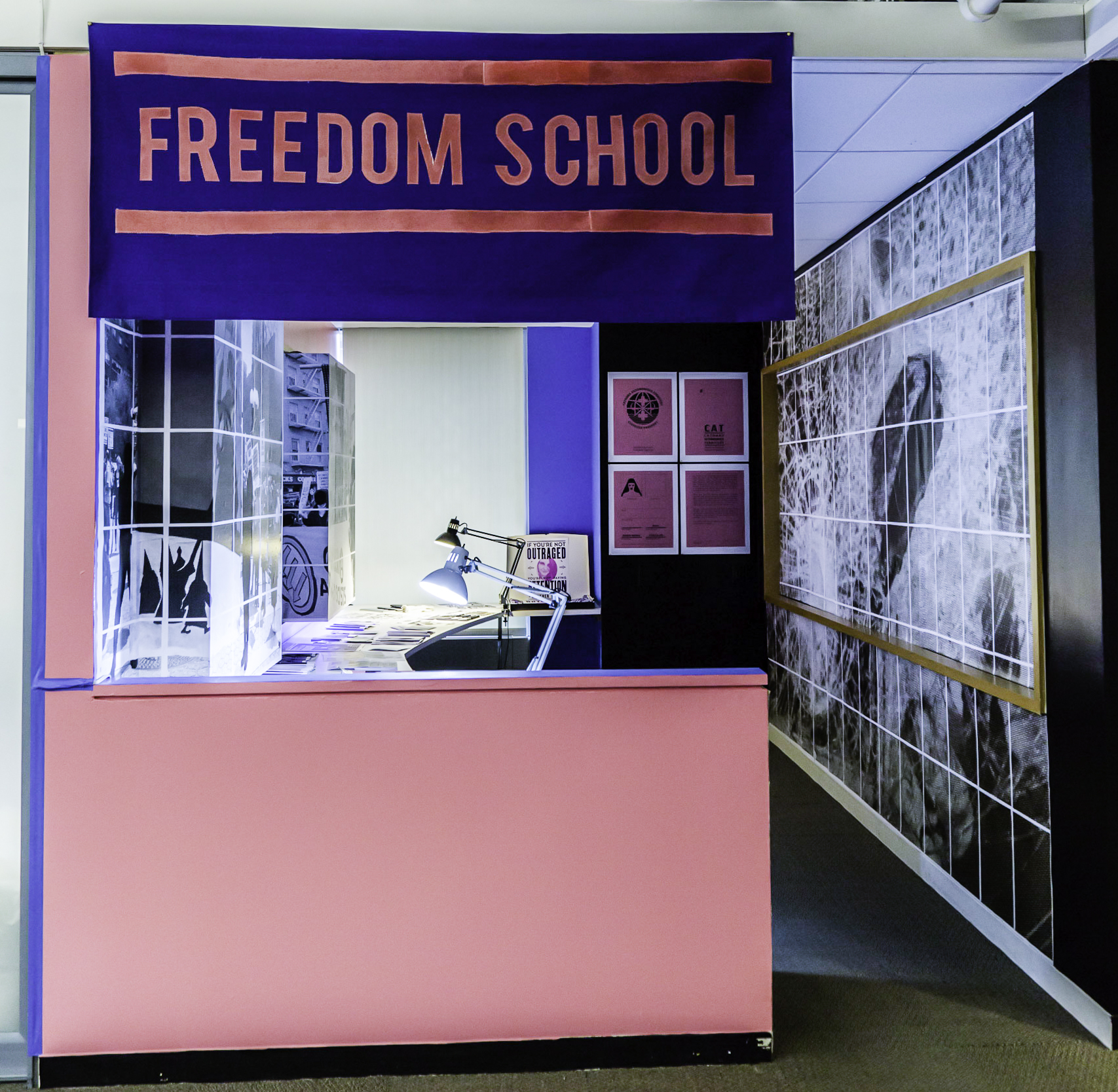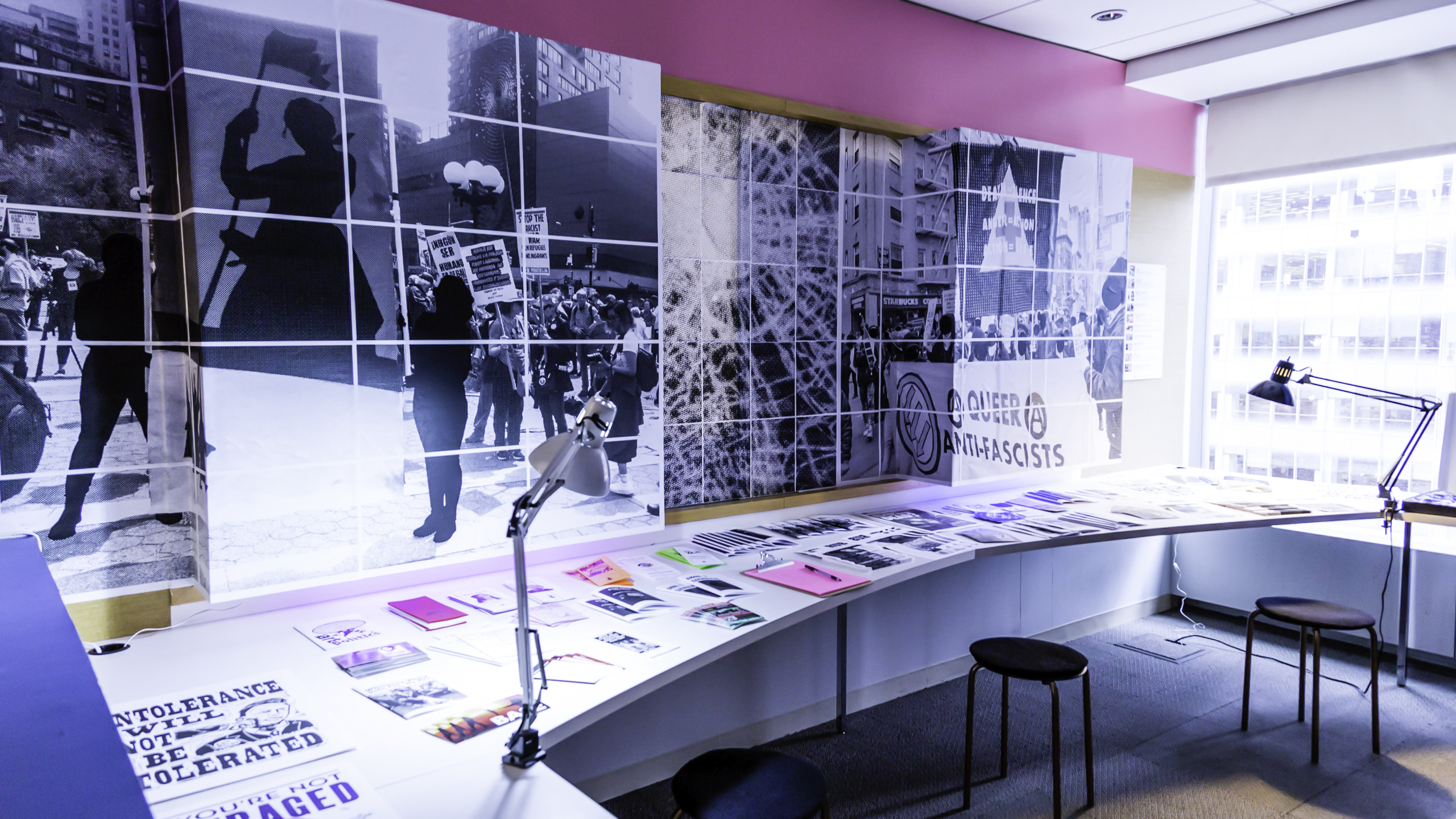 All the content has been produced by artists, writers and collectives. The material ranges from: political prisoner support information, to intimate stories about love and separation due to the judicial system and family stories about immigration. There are also protest posters by Radix Media and zines on: queer activism, self defense, anti-capitalist critique, cards against cat calling and apple porn!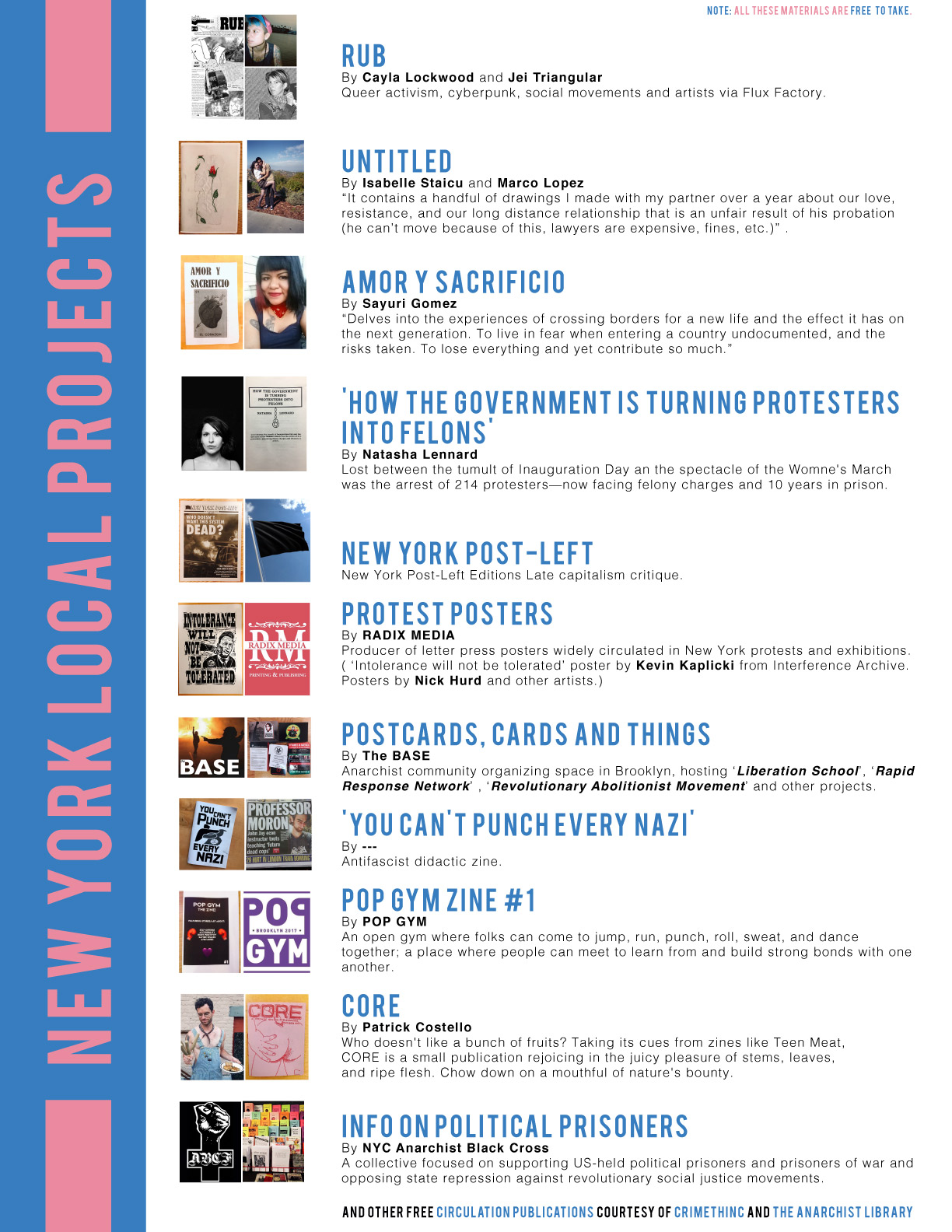 List of Freedom School's zines





RUB

By

Cayla Lockwood

and

Jei Triangular

Queer activism, cyberpunk, social movements and artist via

Flux Factory

.

UNTITLED

By

Isabelle Staicu

and

Marco Lopez

"It contains a handful of drawings I made with my partner over a year about our love, resistance, and our long distance relationship that is an unfair result of his probation (ha can't move because of this, lawyers are expensive, fines, etc.)"

AMOR Y SACRIFICIO

By

Sayuri Gomez

"Delves into the experiences of crossing borders for a new life and the effect it has on the next generation. To live in fear when entering a country undocumented, and the risks taken. To lose everything and yet contribute so much."

'HOW THE GOVERNMENT IS TURNING PROTESTERS INTO FELONS'

By

Natasha Lennard

Lost between the tumult of Inauguration Day an the spectacle of the Womne's March was the arrest of 214 protesters—now facing felony charges and 10 years in prison.

Link:

@natashalennard NEW YOUR POST-LEFT

New York Post-left editions late capitalism critique.

Released on Mayday 2017.

PROTEST POSTERS

By

Radix Media

Producer of letter posters widely circulated in New York protests and exhibitions. ('Intolerance will not be tolerated' poster by

Kevin Kaplicki

from

Interference Archive

. Poster by

Nick Hurd

and other artists.

Link:

radixmedia.org


POSTCARDS, CARDS AND THINGS

By

The BASE

Anarchist community organizing space in Brooklyn, hosting '

Liberation School

', '

Rapid Response Network

', '

RAM - Revolutionary Abolitionist Movement

', and other projects.


'YOU CAN'T PUNCH EVERY NAZI'

By

Mike Issacson

-

Vulgar Economics

Antifascist didactic zine.


POP GYM ZINE #1

By

Pop Gym

An open gym where folks can come to jump, run, punch, roll, sweat, and dance together; a place where people can meet to learn from and build strong bonds with one another.

Link:

popgym.org
CORE

By

Patrick Costello

Who doesn't like a bunch of fruits? Taking its cues from zines like Teen Meat, Core is a small publication rejoicing in the juicy pleasure of steams, leaves, and ripe flesh. Chow down pn a mouthful of nature's bounty.


INFO ON POLITICAL PRISONERS

By

NYC Anarchist Black Cross

A collective focused on supporting US-held political prisoners and prisoners of war and opposing state repression against revolutionary social justice movements.

###

And other free circulation publications courtesy of

Crimethinc

and

The Anarchist Library

.

NOTE:

ALL THESE MATERIALS ARE FREE TO TAKE.


—Photo credits: Valeria Castro